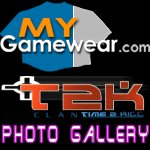 Attendees:

From KYA: BFD, Hathor, Mega, LABTYD, QUICK, Tinman, ViGiLaNtE, Vulcan.

Other: Dr. Demento, MaX, WORM, BloodStain, Yeast, ElToro, Tinman's wife, Vulcan's wife.

It was a great event, and all had fun. This was the first LAN for most of us where the focus was not on Quake, but on Unreal Tournament 2003.

Many thanks to Tinman for opening up his home to all of us.

Courtesy of MyGameWear.com and Clan T2K, we have a Photo Gallery of the event (17 pictures). Head over there, and you can even comment on the photos.